The Classic MotorCycle Magazine
Our April Stafford event has enjoyed a relationship with the The Classic MotorCycle magazine for many years. The long-running publication celebrates the wonderful machines of the pioneer, veteran, vintage and classic eras, and with our annual show doing the same the two are a natural fit.
This year, The Classic MotorCycle magazine celebrates its 40th year – its Ruby anniversary – of unbroken publication.
Founded in 1981, The Classic MotorCycle was the creation of Bob Currie, who during the halcyon days of the 1950s and 60s had served as The Motor Cycle's midlands editor, enjoying a close relationship with the major factories – so engrained, he even had his own tea mug in BSA's press office.
Recognising the burgeoning classic and vintage scene, and the positive response to his Past Times column in The Motor Cycle during the 1970s, Bob was the launch editor of The Classic MotorCycle, its debut being June/July 1981. It was an immediate success, going from strength to strength under Bob's leadership and guidance.
The title ownership changed a couple of times, while Bob Currie died in 1988, before The Classic MotorCycle became the first magazine (many more have followed) acquired by Mortons Media Group, in 1998, where it continues to be published, every month, including during the recent pandemic.
The Classic MotorCycle largely follows the template established in 1981, focussing on (predominantly) British machines from (predominantly) pre circa 1975 (though generally older), though there's always room for deviations, oddities and rarities, as there always has been in the title. The magazine's eclectic team are genuine enthusiasts and classic owners and riders, who revel in and relish the opportunity to share their passion with a knowledgeable, loyal readership.
Make sure you head over to the main stand in the main hall at the event, where you'll find back issues, subscription deals and merchandise to celebrate TCM's 40th anniversary!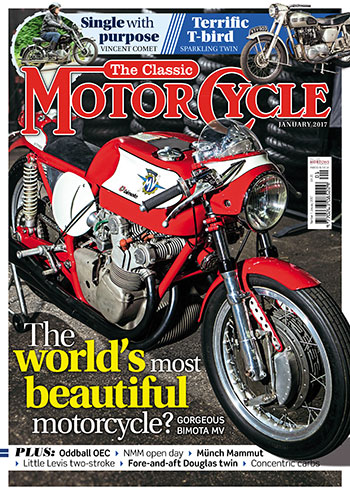 The Classic MotorCycle brings together news, reviews and archive images from the golden age of motorcycling. Legendary machines, riders and races are celebrated through lavish illustrations and detailed reports. Drawing on an archive stretching back to 1903, TCM offers an unparalleled insight into more than a century of motorcycle development.