Read about where it all began…43 years ago!
Stafford Classic MotorCycle Show in April has been on the go for over four decades now. But where did it all begin? Let's turn back the clock to 1980 and find out how one man gambled everything on the idea of a show dedicated to classic bikes. Forty years later it's now the world's biggest of its kind.
It takes a lot of bottle to jack in a well-paid job in advertising to launch a new concept in motorcycle shows. Alan Whitehead did just that to start what became the highly successful International Classic Bike Show.
The idea of a show for classic machines came to Whitehead, a British bike enthusiast, on a train journey back to his Bolton home after a visit to the Earls Court show.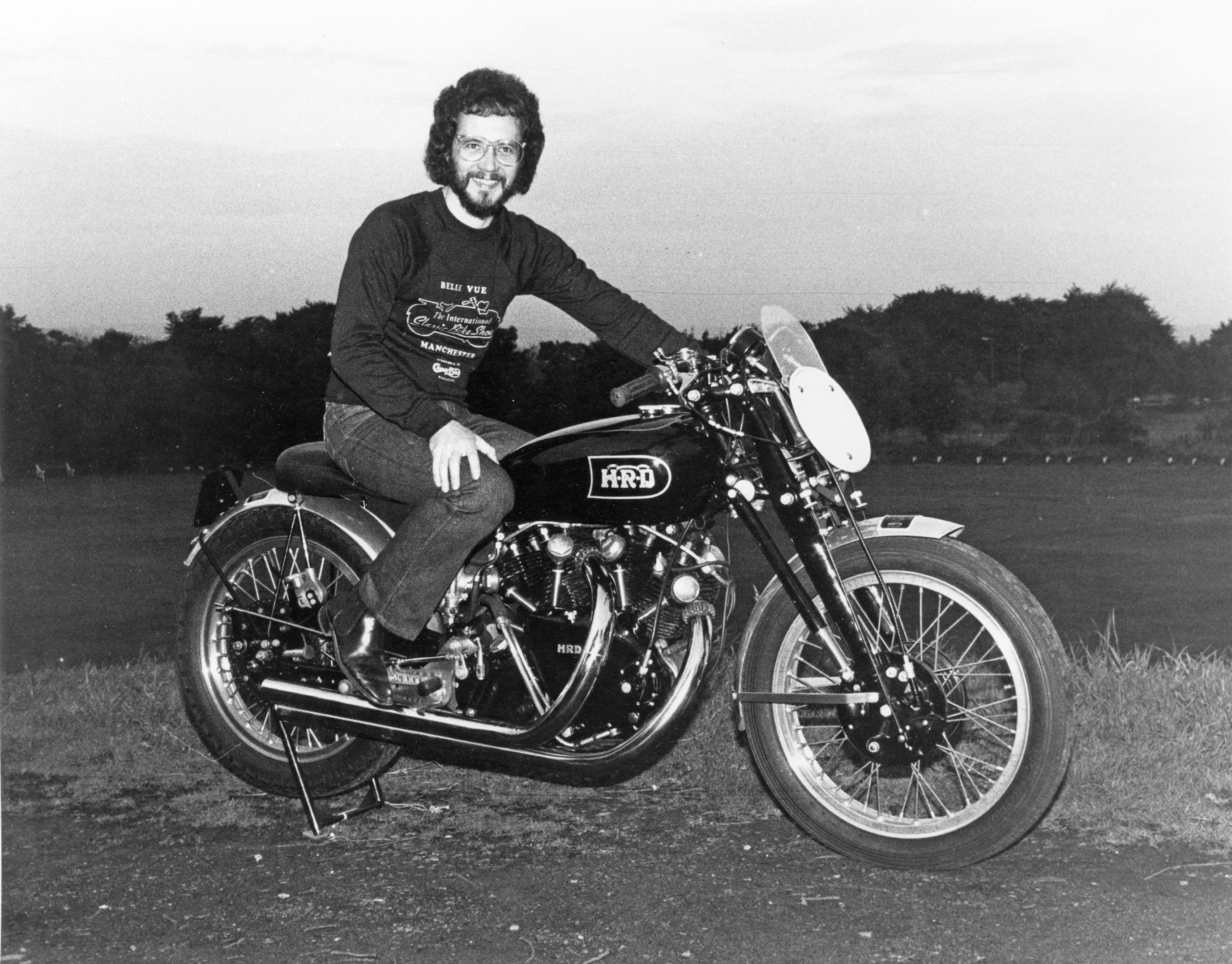 "I had been really bored wandering around looking at Japanese machines that I could see at my local dealers. And I saw that one of the biggest crowds was around the Vintage Motor Cycle Club stand," he said.
That set him thinking. "I felt that there must have been plenty of like-minded enthusiasts who would welcome a show devoted to classic bikes."
The decision was made. Whitehead gave up his job as northern advertising rep on Commercial Motor magazine and booked a weekend in October 1980 at the Manchester Belle Vue exhibition centre.
Not a complete stranger to organising events, Whitehead and his wife Hilary had been running small autojumbles and antique fairs in their spare time for several years. But nothing on the scale of a major show!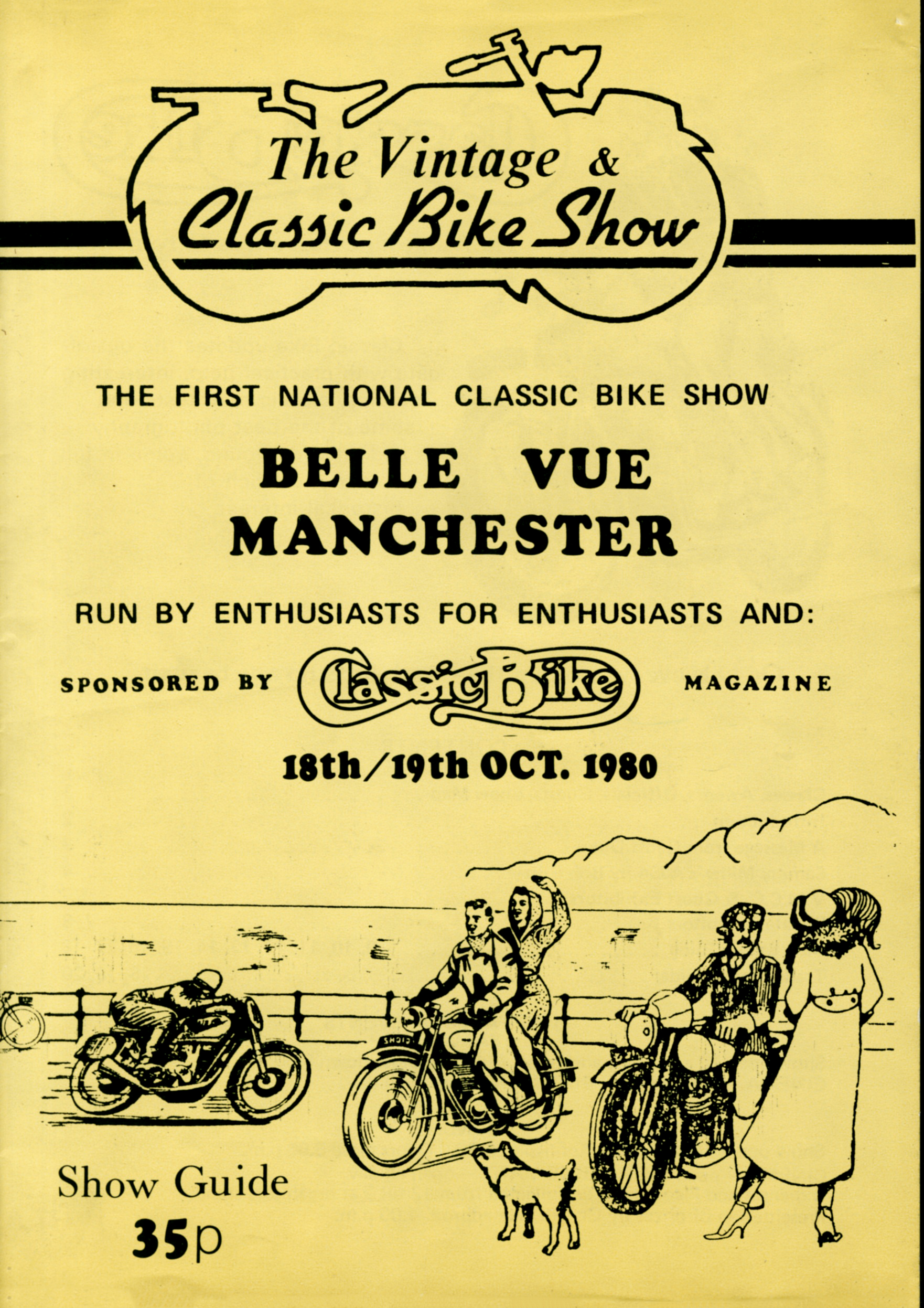 "Looking back, it was a very impulsive thing to do at 35 years old with a mortgage and two young children. But Hilary and I had this blind faith it would work."
The gamble paid off, which is just as well. The naive newcomers to big-time shows hadn't realised they should have formed a limited company and could have lost their house if the venture had been a financial flop.
"We had a bit of a panic on the Saturday night," remembers Whitehead. "The show was very well received by those who came on the first day, but there weren't sufficient numbers of them. If only the same amount went through the turnstiles on the Sunday we wouldn't have made enough to clear our costs.
"We sat down to dinner that night with mixed feelings. It might have been a financial flop so far, but everyone who came had been very enthusiastic."
They decided to go the next day and enjoy themselves regardless. "It was our show, we'd paid for it, it was full of the kind of people we wanted to see and the bikes we wanted to look at."
Fortunately, enthusiasts turned up in their thousands, the show was a great success and the Whiteheads went home happy, if not exactly millionaires.
Forty years on, Alan Whitehead is still a friendly, engaging character and an integral part of the show. Still attending every show, and wearing white from head to toe, he's the sort of person that you meet, chat to and feel you've got a friend for life.
Numerous motorcycle personalities have attended the show over the years, either as guests of honour or paying to come in through the turnstiles.
"I remember seeing multi-TT winner Stanley Woods queuing up to come in that first year. He was a great hero I'd read about but never met. So I invited him to be guest of honour the following year.
"Kiwi grand prix racer Rod Coleman also visited us, likewise another TT star, Mick Grant, who is a great classic enthusiast."
Geoff Duke was guest of honour at the first show. "Geoff was my childhood hero and I just wanted him to be there," admits Whitehead. "He was great to get on with, such a well-liked personality — and a well-preserved classic himself — we invited him back in 1988."
Apart from Duke and Woods, other guests have included the likes of John Surtees, Sammy Miller, John Cooper, Grant, Bill Lomas, Derek Minter, Percy Tait, Colin Seeley, Giacomo Agostini, Carl Fogarty, Phil McCallum and Phil Read.
Far from hiding away from the public during shows like some organisers, the Whiteheads were traditionally highly conspicuous, wearing matching brightly coloured jeans and sweat shirts.
"When we were in the early years, we went through a state of having a different colour every year — all black, yellow, red and green. Nowadays, I just stick to all-white!" Alan said.
"It was a bit of a gimmick, but the idea behind it all those years ago was that we wanted to be approachable. Every single transaction at the show was dealt with by either Hilary or me."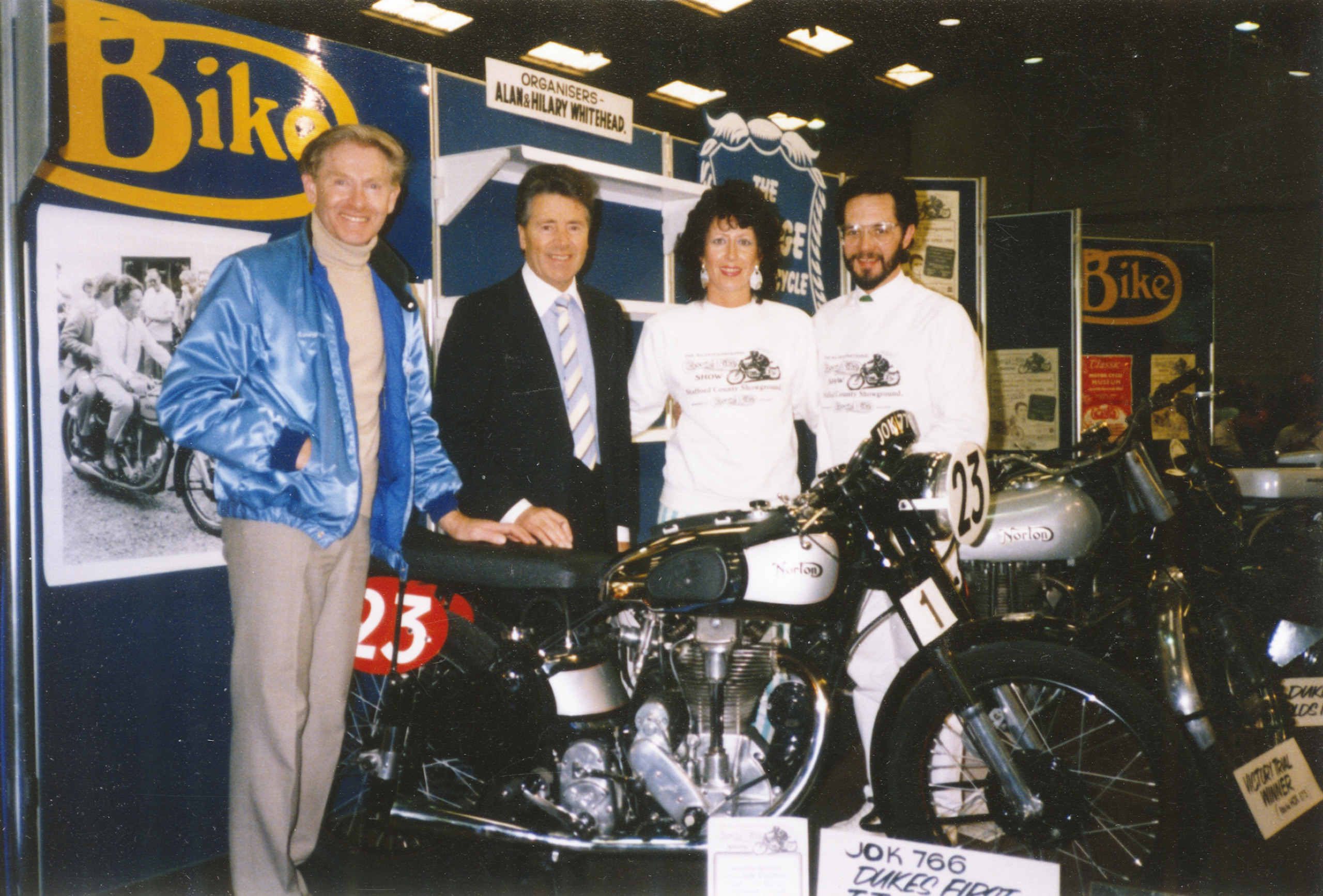 A real enthusiast still to this day, Alan Whitehead has been riding, restoring and collecting British bikes since the Fifties.
The move to Stafford…
The move to Stafford was an enforced one. The news that Belle Vue was to be developed in 1986 was devastating for Alan, for although the grubby corridors of the Manchester venue weren't ideal, they had become the spiritual home of what was, by then, a rapidly growing classic scene. And, although it wasn't quite like starting again, attendance took a turn in the wrong direction, and it took a good three years for the crowd at Stafford County Showground to build back up to the very best of the Belle Vue gates.
Introducing the October show…
Many a wise old sage laughed at the thought of launching an event dedicated to Japanese classics, but from a single-day, single-hall event at Stafford in 1994, it now all but equals April's extravaganza with visitors known to attend both shows every year. Attracting some seriously big names over the years, including Kevin Schwantz, Wayne Rainey, Freddie Spencer, Ron Haslam and Eddie Lawson, the show has grown into another of the world's largest of its kind.
A new millennium…and new show owners!
Twenty years later and heading into the new millennium, Alan was ready for a rest – and here at Mortons Media Group, we were ready for a new challenge!
During the late 90s and early 2000s, the powers that be at Mortons were busy building our specialist motorcycling portfolio of magazines, and were ready to dip their toe into the world of events. Kicking off the first show in April 2000, with Alan on hand as consultant, the team celebrated the show in all its glory, with racing legend Phil Read as guest of honour for the weekend.
In usual business fashion, Alan was kept on as a consultant, but over the past 20 years he has become much more than that. He has helped develop and grow the shows with Mortons in a way that he didn't have the infrastructure to do, and taken great pleasure from being part of that growth. His experience has proved invaluable and he will always be an important part of the show team. You can still see Alan walking round every show in his signature all-whites, clipboard in hand and ready for another weekend of classic motorcycling heaven!
20 years later…
Acquiring the Stafford events 20 years ago soon turned into building a portfolio of events, which now stretch the length and breadth of the country, and fill the classic motorcycle event calendar year on year. The shows are run by our small team, some of whom are classics themselves! Mortons is a place full of motorcycle riders, enthusiasts and journalists, who all agree that this flagship event is their jewel in the crown and an event to be proud of.
Here's to the next 40 years!