October 2022 Guest of Honour to be announced in due course…
PREVIOUS GUESTS…
Our 2021 Guest of Honour for the October show was Road racing Ace – Michael Dunlop!
Michael is the first rider to complete a lap of the most famous road racing course in the world in under 17 minutes, with an average speed of 134mph.
He is also the last member of the Dunlop quartet who have dominated the dangerous and thrilling scene of motorcycle road racing for more than 40 years. Despite losing his uncle Joey, father Robert and elder brother William through the love of the sport, Michael continues to race and is currently chasing his Uncle Joey's world record of 26 Isle of Man TT wins.
One of Michael's most famous wins – and probably one of the most remarkable chapters in the Dunlop story – came immediately after another family tragedy. Just hours after his father Robert's death at the North West 200 in 2008, Michael and his brother William were out preparing their bikes for racing the next day. Despite protests from organisers, family and friends, Michael went out and won the North West 200 the following day. He suitably dedicated the win to his father and since then has firmly established himself as one of the greatest motorcycle road racers in the world.
Ten time World Sidecar Champion, Steve Webster MBE.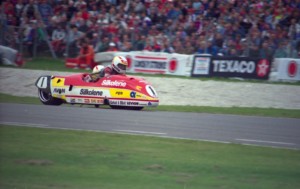 Born in Easingwold, North Yorkshire, Webster's career began aged 19 back in 1980 at his local circuit, Elvington near York, and he went on to achieve a magnificent and record-breaking career, winning the FIM Sidecar Championship a record-breaking ten times.
He won his first title in 1987, in only his fourth season of world Championship events, with Tony Hewitt in the chair.
His further two titles were added in 1988 and 1989, before claiming another title in 1991 with partner Gavin Simmons. A gap of six years followed, before he claimed three back-to-back titles in 1997, 98 and 99 with David James.
In 2000, Paul Woodhead joined Webster, winning the world title that year before adding two more in 2003 and 2004.
Along the way to securing his record ten world titles, 'Webbo' notched up an unprecedented 31 consecutive pole positions in World Championship races and clinched 62 World Championship wins.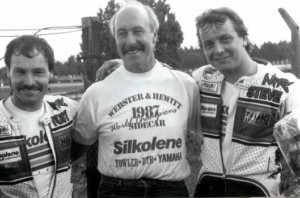 His illustrious 25-year career came to an end in 2005 when he announced his retirement from the sport after health problems prevented him from finishing the season. His announcement brought to an end a career which saw him rise from a 19-year-old club racer to the most successful sidecar racer in the history of the FIM World Championship. The Yorkshire-born man has always been a firm favourite around the world, not just for his brilliant record, but also for his laid-back attitude.
Away from his racing, Webster has been awarded numerous awards and recognitions for his outstanding career. He was the recipient of the Seagrave Trophy in 1991, the same year he was awarded an MBE for 'services to sport'. He also received a Lifetime Achievement Award from the Auto Cycle Union in 2006.
Next up, "genius engineer" Allen Millyard!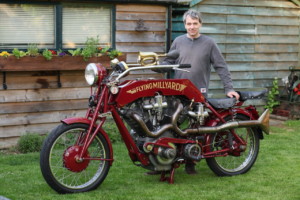 Allen is renowned for creating mind-boggling bikes, having built more than 30 multi-cylinder machines ranging from four and five-pot, two-stroke Kawasaki machines, to a V12 based on a Z1300. A selection of eight of his creations will be showcased at the event.
If you know your ABC – Amazing Bike Creations – you'll be spell bound by Millyard's magic.
After more than two decades he's produced dozens of Kawasaki fours, fives, little Honda V-twins, V8 and V12 Kawasakis, the Viper V10, the Flying Millyard five-litre V-twin and the six-cylinder RC374 'Hailwood Tribute' inspired two years ago at Castle Combe when he saw Guy Martin riding one of the replicas of the 297cc Honda racer. Allen was able to craft the RC374 from scratch in the workshop next to his house, taking seven months to complete it in time for April 2018's Stafford show where it was fired up for the first time.
His Viper V10 is by far his most ambitious project to date. Not only was 90% of it handmade by Millyard himself in the single garage at his home in Thatcham, Berkshire, but the machine is fully road legal.
The 800cc, 500bhp two-wheeler reached more than 200mph at Bruntingthorpe Proving Ground.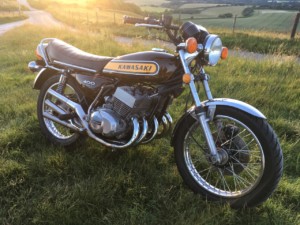 Back in April 2019 at the Stafford show, Allen unveiled his stunning new creation, the Velocette V-twin. Created in his garage in just eight weeks, and following previous Millyard masterpieces such as his V12 Kawasaki Z2300, five-cylinder Kawasaki KH and six-cylinder RC374 replica (made using two Yamaha FZ250R engines), the bike is Allen's imagining of what a Velocette V-twin from the 1930s might have been like.
Having first bought the donor bike back in 1979, the inspiration to turn it into something special came at last year's Stafford show where he was displaying his Hailwood Tribute. After seeing a Velocette at the show, he remembered he had a broken one at home so he bought some parts for it at the show.
He has won accolades for engineering excellence, and will be showing some of his genius creations at the show, such as the Honda SS100 V Twin, Kawasaki S1A 350 four, Velocette V-twin and The Flying Millyard.
Allen has been bringing pieces of scrap back to life since he was 17, inspired by his passion for metalwork at school. One of his first projects saw him transform a rotten Honda 90 into a V-twin from his dad's Myford ML7.