BRAND NEW FOR THE SHOW!
NEW FOR 2019! We're bringing you your very own live gig at Stafford! Live music never fails to bring atmosphere, and we hope this new area will also provide our visitors with somewhere to sit and enjoy their lunch…maybe with a beer too! We're making the most of the bandstand outside, which is where you'll find the stage and plenty of seating too!
The bands will be playing two 45 minute sets per day over the lunchtime period –  exact times to be confirmed.
Saturday's Live Act: Ignition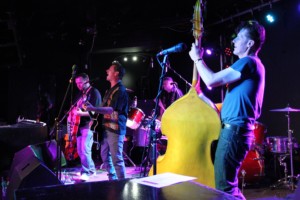 Ignition are a Staffordshire based Rockabilly band formed in 2017 by former Tennessee Hounddogs members Mark Weaver & Kevin Massey, Built for Speed Drummer Nigel Lloyd & new guitarist Rob Brindley. Aiming to replicate the Neo Rockabilly sound of the 1980's, Ignition offer a night of high tempo, hard hitting Rock 'N' Roll with a mix of classics from the 1950's through to the present day. After their first gig at the 'Music on the Moor' charity festival on July 22nd 2017, Ignition has gone on to play around the country at top venues such as The Ace Cafe, London!
More information: http://ignition-band.co.uk/
Sunday's Live Act: Trentham Brass Band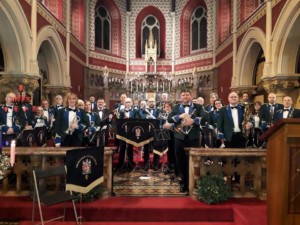 Local to Stafford, Trentham band has seen many changes over the years since it was formed in the early nineteen seventies as the North Staffordshire Brass Band.
Having gone through many name changes and sponsorships over the years, this fantastic self-funded band has played concerts and services all over the country and has even travelled across Europe!
Trentham Brass prides itself for being a band which encourages its younger players to achieve their very best potential, both individually and as part of the team.
So, we really are going to be making the most of the bandstand at Stafford this year, with our very own brass band!
More information: http://www.trenthambrass.org/