Celebrating 100 years of TT Racing
Although the Isle of Man TT races were launched in 1907 there has, in fact, only been 100 years of actual racing on the island, including the forthcoming TT 2019.
A total of 12 years were lost as a consequence of the two World Wars and the Foot and Mouth epidemic, the latter causing the cancellation of many sporting occasions throughout the UK, including the TT. As a result, we can celebrate 100 years of TT all over again.
Amongst the impressive list of Guests of Honour are current TT stars Ian Hutchinson and Tom and Ben Birchall, with 24 TT wins between them.
Ian Hutchinson
Hutchy became the fourth most successful rider in TT history with 16 wins, including five races in a week in 2010, although his success has not come without serious cost.
He suffered horrific injuries that would have made most people call time on racing, when a short circuit accident at Silverstone shattered his leg. With a cage fitted, he re-grew 210mm (over 8 inches) of bone.
Returning to TT racing in 2012, he broke the same leg again in a mini-bike accident, but still bounced back to win the Macau Grand Prix. Back on the Isle of Man fit and well in 2015, he gained three wins, repeating the feat in 2016 and claiming two more in 2017, before a freak accident broke the same leg once again.
Now back to full fitness, the Honda rider's stage interviews are not to be missed.
Ben and Tom Birchall
Likeable brothers Ben and Tom Birchall have made the sidecar TT their own in recent years, winning the last five races on the bounce. The duo became a team in 2003, when Ben swapped the co-pilot's platform to drive his own outfit.
Driver Ben and younger brother Tom dominated the 2018 Sidecar races, securing both race and lap records, as well as taking their TT win tally to eight. They rounded off the year with another World title, their third in the premier class, making them the only team to win back-to-back TTs and World Championships in the history of the sport.
The brothers will have their TT winning outfit on display, and also will be on stage during both days with some great stories to share.
Charlie Williams
Few riders can boast a TT career like 9-time TT winner Charlie Williams. First coming to the attention of the road racing world in 1971 when he won the Lightweight Manx Grand Prix, Charlie went on to enjoy a successful TT career, notching up 21 podiums.
In addition to his real roads career, Charlie was a successful Endurance racer. Partnered by fellow Cheshire man, Stan Woods, they won the prestigious Barcelona 24 Hour Race, the 8-hour Nurburgring race, 6-hour Zandvoort race, and 1000km race at Brands Hatch, all on factory Honda machines.
Since retiring from racing, Charlie has raced in both the Goodwood Revival and the Classic TT, as well as keeping his interest alive as a TT radio presenter. The Mitsui Yamaha TZ250 on which Charlie enjoyed his last TT win in 1980 will be on display as part of the TT celebration.
Charlie will be launching his autobiography at the show. It promises to be a great read, and he will be signing copies.
Alex George
The fact that Alex won three TT races only tells part of the story of a long and successful career.
Hailing from Glasgow, Alex, in common with Charlie Williams, first gained recognition when he won the Lightweight Manx Grand Prix in 1969. Again in common with Charlie, he was a successful Endurance racer, winning the Bol' d'Or 24 Hour Race for Honda.
In a period when most riders combined pure road racing with Grand Prix, Alex made a name for himself on the Continental Circus, racing TZ Yamaha machinery, Suzuki RG500 and factory Cagiva 500. He finished third at the 500cc Czech GP in 1975; the 1350cc Dutch TT in the same year; and in 1977 won the 500cc Austrian GP. He also had a number of other top 6 results in the 500, 350 and 250cc GP classes.
Partnered by Dave Croxford, Alex claimed his first TT victory in the 1975, 10-lap Production TT aboard the legendary factory Triumph racer, Slippery Sam. The second TT win came in the Formula 1 race in the 1979 TT. Aboard a factory Honda, Alex ran away a clear winner. He is perhaps best remembered for his incredible dice with Mike Hailwood later in the week, when he came home the victor by a mere 3.4 seconds after six hard-fought laps.
His career effectively ended after the TT in 1982, although he was to race again in the 1992 Senior Classic Manx Grand Prix, when he finished in a creditable 11th place on a 500 Manx Norton.
Jim Redman MBE
London-born Jim Redman moved to Rhodesia at a young age and started his racing career there. Few could have imagined then the success he would have at the highest levels of the sport.
Having raced in Rhodesia, Jim returned to Europe, and after Honda team rider Tom Phillis was injured, Jim filled in for him in the latter half of the 1960 season, becoming a full-time Honda rider in 1961.
The Honda-Redman partnership proved a formidable one, with Jim going on to claim four consecutive 350cc World titles between 1962 and 1965. In 1962 and 1963, he did the double by winning both the 250 and 350cc titles in the same year.
In 1964, Redman became the first rider to win three Grand Prix in one day, the only other rider in racing history to match this feat being Mike Hailwood three years later. Jim is also a 6-time TT winner, with double 250 and 350cc wins in 1963, 1964, and 1965. He retired from the sport after suffering a serious arm injury during the 1966 Belgium Grand Prix.
Tommy Robb
Ever-smiling Tommy Robb's TT career began in 1958 aboard a NSU in the 250cc race on the Clypse Course, having already achieved success in his native Ulster. He finished a creditable eighth.
On his Mountain Course debut the following year aboard a 350cc Manx Norton, he finished 22nd. Back on the Clypse Course riding Geoff Monty's GMS, he showed the promise of what was to come by claiming fourth place in the 250cc race and ninth on a Ducati in the 125cc race.
After a nasty spill at Windy Corner in the 1960 TT, which resulted in a broken neck, Tommy understandably took time out to recover. All that changed, however, when he was drafted into the Honda Team in 1962 alongside Bob McIntyre, Jim Redman, Luigi Taveri, Tom Phillis and Kunimitsu Takahashi.
Tommy immediately took to the Japanese machinery, finishing second in the 125cc race and a third in the 50cc TT. The following season saw him equipped with 125, 250 and 350cc Hondas. After a split with Honda, Tommy raced a factory Yamaha to seventh place in the TT, and also rode works Bultaco machinery. The Irish ace was also a long-time Continental Circus rider, with an impressive list of results.
Riding for Dublin sponsor, Danny Keaney, Tommy planned for 1973 to be his last season of TT racing, and entered five races. Race week started well, with a third in the Production Race, followed by mid-field finishes in the 250 and 350cc classes, although it was the 125cc race, which gave the popular Ulsterman the victory he had always dreamed of.
Steve Plater
Not only is Steve Plater the regular compere at the show, but he is also a two-time TT winner and highly respected short circuit and Endurance racer.
A late starter in road racing (Steve's been confused about his age ever since!) when he decided that Speedway racing and track days didn't fill his thirst for speed, the Lincolnshire ace was immediately successful.
Highlights include multiple victories at the North West 200, British Superbike, Supersport and World Endurance championships, Senior TT winner, and being undefeated at the Macau Grand Prix with victories in 2006 and 2007. His career looked as if it was about to be cut short when he suffered serious injury in the 2010 Northwest 200, but after extensive surgery, Steve made his long-anticipated comeback in 2011 in the British Supersport Championship. After a high-speed accident at Thruxton, he eventually decided to call it a day.
Steve has no regrets about his career, with personal highlights including his first TT win in 2008; the following season being crowned British Supersport Champion; winning the Isle of Man Senior TT; increasing his win tally at the North West 200; and finishing on the podium in both the British Superbike and World Endurance championships.
John Cooper
What can we say about the fan's favourite, John Moon Eyes Cooper, in a few short paragraphs? It could fill a book! In fact, that is exactly what has happened, and John will be launching it at the show.
Forever remembered as the rider who vanquished Italian star Giacomo Agostini – arguably the greatest Grand Prix racer of all time – at his home circuit, Mallory Park, John achieved so much more during a long and hugely successful career, although it has to be said his victory on the factory BSA triple was the stuff of legend.
Starting out in local Derbyshire trials aged just 16, John soon switched the road racing aboard a 197cc James, tuned by Harry Lomas, father of Grand Prix's Bill Lomas. He quickly progressed through the road racing ranks, becoming a formidable competitor on 350 and 500 Manx Nortons, and later on Colin Seeley's 500 and 350 Yamsel, and also the factory BSA, which he is perhaps best remembered for.
Entering the TT for the first time in 1964, John showed great promise by finishing ninth in the hard-fought Senior Race, but machine failures in subsequent years meant victory always eluded him. He is, however, a two-time North West 200 winner.
— B I K E S    O N    D I S P L A Y —
All of these incredible machines will be on display on the main magazine subscription stand in the Main Hall, in front of the private entry display.
1932 H.G. Tyrell-Smith 350cc works racer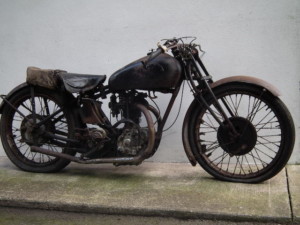 In 1930, Rudge achieved 1st, 2nd and 3rd in the Junior TT with Tyrell-Smith, Ernie Nott & Graham Walker. There were few Works race bikes made each year, and this example is one of only 4 or 5 bikes built in 1932. At the end of each season, the bikes were sold off and a new bike was built for each season. This bike remained in Ireland and had been in the same ownership since 1940, even running until 1970! The bike was purchased by Mike Farrall in 2015, with Bonhams commenting that it "must be the highest price paid for a Rudge."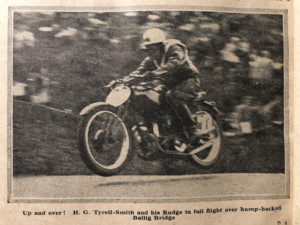 Mike intends to retain the bike's patina and recommission it sympathetically.
Find this incredibly rare machine on display on the main subscription stand the main hall, in front of the private entry display.
—————-
1926 AJS GR10 500c
This bike raced in the 1926 Senior TT Race, but interestingly it is not known where it placed. A total of seven of these machines were entered in the race, with only three finishing in 3rd, 6th and 8th place. Due to the AJS factory fire in Wolverhampton, all records were destroyed, and so the bikes and frame numbers to riders are unknown to this day.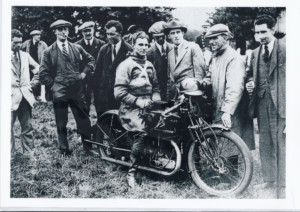 This bike has the standard competition tank and not the pannier TT tank. The standard tank had a larger capacity due to the introduction of a heal operated oil pump which allowed the rider to manually oil the main bearings without taking their hands off the handlebars – a huge advantage due to the condition of the roads in the 1920s!
This machine is capable of a top speed of 95mph! The brakes are nothing more than a gentle slowing down tool, and so using momentum was the great skill to achieve the speeds they did.
Can you imagine being sat on this for four hours racing?! How times have changed!
————–
Yamaha TZ250G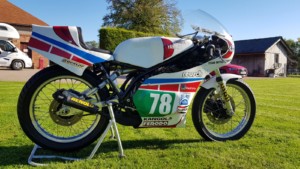 Ridden by star guest Charlie Williams to victory in the 1980 250 Junior TT, this machine has recently been restored to original specification by Em Roberts.
Charlie led that winning race from start to finish, completing the four laps at an average speed of 102.2mph on this very bike – this was to be his eighth and final TT success. This bike was also used at British national meetings and Charlie set a new 250cc lap record at Mallory Park the weekend after the final TT win…only for Charlie to repeat his victory later on in the season and break his own record!
—————
Honda CR110
"Truly a miniature mechanical marvel with amazing attention to detail in every angle"
John Lawley acquired this machine in 1964 and was soon using it to good effect on the short circuits. His eventual aim was to race this to the TT, which he did in 1966. Unfortunately, it didn't finish, but it went on to come home 10th in 1967 and seventh in 1968. Thereafter the 50cc class was abandoned at the TT and the machine was put into storage until the 1980s when it took part in the lap of honour parades.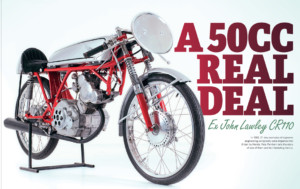 Current owner Pete Parnham bought the bike from Bonhams in a "need of recommissioning" state. Having been standing for many years, the bike was "scruffy, but honest." It has now been restored to its original appearance, with red frame and clip-ons. Pete's aim was not to "over restore" but he has had the frame powder-coated and the paintwork re-done as the originals were past their prime.
—————
1984 Moto Cinelli Ducati TT2 
This Ducati TT2 was built by Moto Cinelli using a Harris Chassis and Sports Motorcycles engine for Malc Wheeler to contest the 1984 World and British Formula 2 Championships.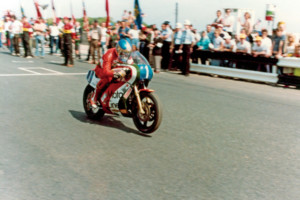 Despite the amount of money spent on it the Ducati failed to live up to expectations with the best results being a second place in the British Championship race at Snetterton and seventh in the Isle of Man TT after a practice week filled with engine and suspension issues.
After the 1984 TT the team split up and Malc didn't see the Ducati again until nine years ago when he discovered it in a private collection, managed to buy it, and carried out a total restoration.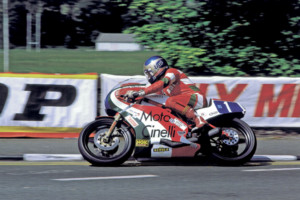 Thanks go to B and C Express, Dream Machine Race Paint (both original sponsors in 1984) G Tec, and John Hackett of Ducati Coventry who finally got it running properly.
—————
Joey Dunlop's 1994 Honda RC45
This original Joey Dunlop bike saw the greatest TT rider of all time come home 3rd in the 1994 Senior TT, behind Steve Hislop and Phil Macallan. Although this bike has been in a racing accident, it still carries Joey's engine, and all the suspension in inscribed with "JD." Fitted with a different frame due to the necessary repairs, current owner Barry Steels would describe the bike as 75-80% original.