'LABOUR OF LOVE' COLLECTION REFLECTS SPORT'S GLORY YEARS
Bonhams : The Autumn Stafford Sale – The Classic Motorcycle Mechanics Show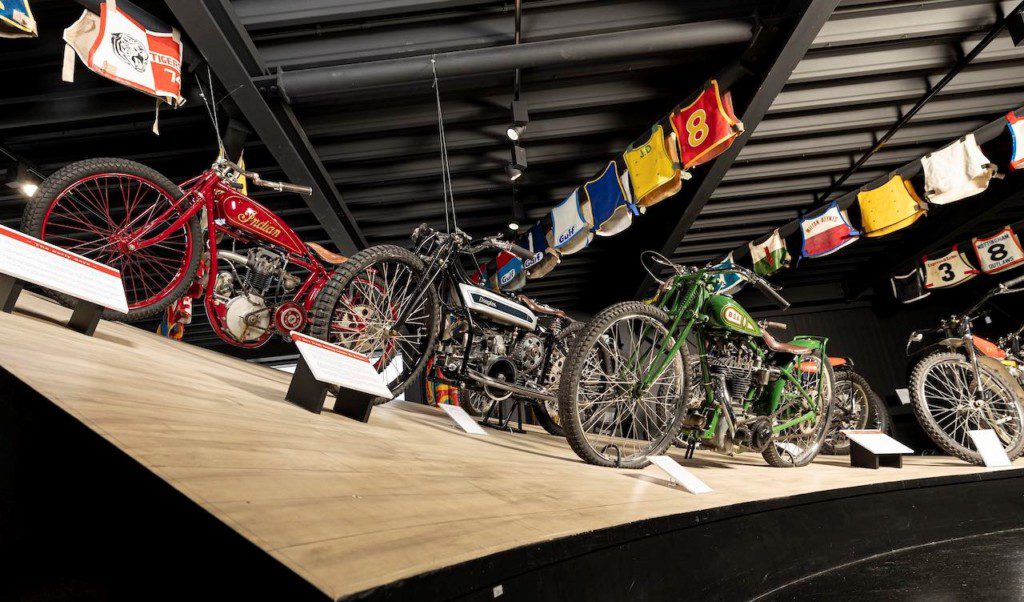 The Forshaw Collection on display at the Haynes Motor Museum
An extraordinary collection of 31 Speedway Motorcycles, reflecting the glory years of a sport once the second most popular in the UK, will be the centrepiece of Bonhams Autumn Stafford Sale on 15-16 October.
The Forshaw Speedway Collection represents 60 years of speedway history from its beginnings in the 1920s. Led by an exemplary pre-war American duo of a Crocker and an Indian, the collection also includes European solo style motorcycles, representing great marques such as BSA, Douglas, Norton and Rudge. They are offered with associated memorabilia, including six engines and an extensive selection of race jackets. Having been displayed at the prestigious Haynes Motor Museum for the past 25 years, the collection is now offered with a total high estimate of more than £500,000.
The motorcycles and memorabilia were amassed by the late enthusiast and engineer Richard Forshaw, whose father, Captain Ivan Forshaw, was a former motorcycle racer before founding the family's respected Aston Martin specialist business in Dorset. Richard was also, in his own words "a former, if undistinguished, speedway rider now with a passion for collecting the machinery of the sport". He tested his engineering skills by restoring some of the machines which was a 'labour of love'.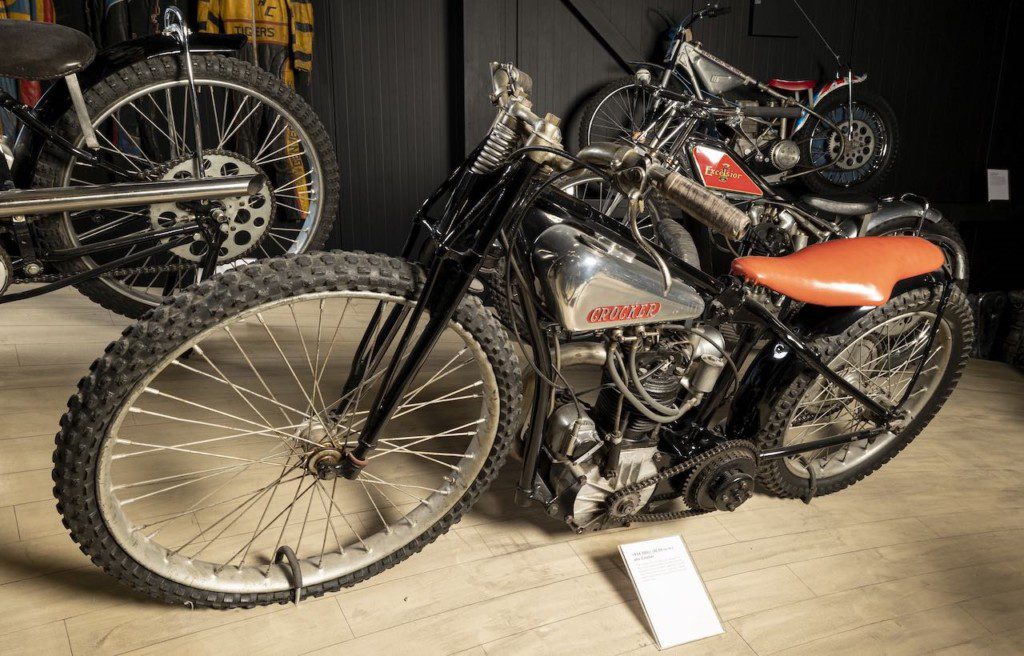 1934 Crocker Speedway 500cc OHV, £100,000 – 150,000
Leading the group are two exciting American machines: the first, a 1934 Crocker Speedway 500cc OHV, estimate £100,000 – 150,000. Crocker's hand-built master pieces earned the marque a legendary status, with its V-twin machines some of the world's most valuable. Founder Albert G Crocker started out making speedway frames for V-twins before producing more suitable single-cylinder machines.
It is believed that no more than 30 – 40 single-cylinder bikes were produced, including this 1934 example, known as the 'Red' Rice Crocker after its original rider, which Richard acquired in a swap for a Brough-Superior in 1996. It has been described as the 'most original known as it still has the correct Crocker tank, frame, etc.' The motorcycle is totally original except for the seat which was replaced by Rice and so has become part of its history.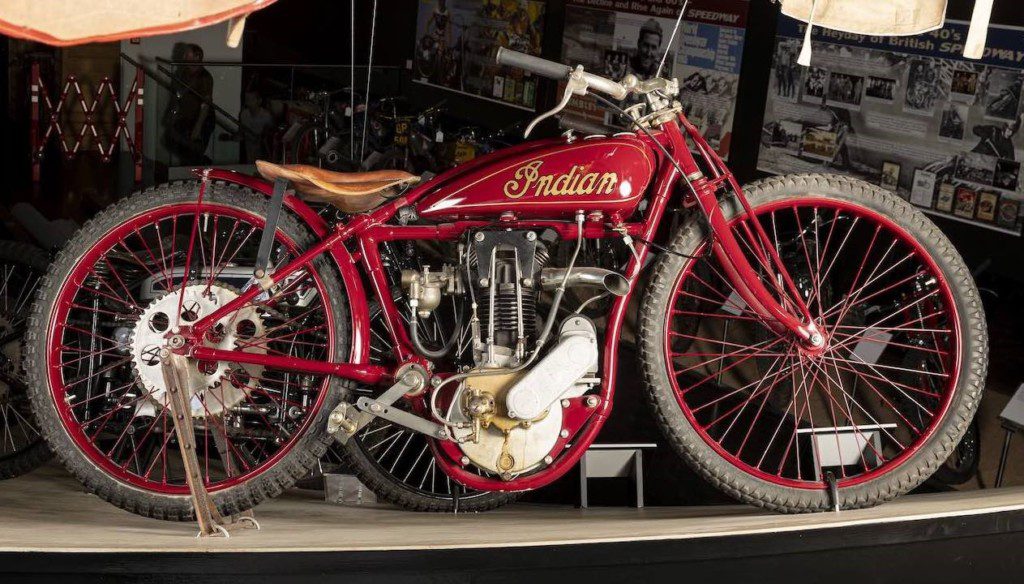 circa 1927 Indian Speedway 350cc OHV Dirt Track Model, estimate £90,000 – 130,000
Also offered is a circa 1927 Indian Speedway 350cc OHV Dirt Track Model, estimate £90,000 – 130,000. The traditional red Indian was ridden by an early star of the sport, American Art Pechar. The American National Dirt-Track champion came over to compete in England when speedway first arrived in the country in 1928, breaking the Greenford and Stamford Bridge mile records in the same day, 16 June. The machine, purchased by Richard in 1990, was carefully and attentively restored by him and is offered with various letters vouching for its authenticity.
Ben Walker, Global Head of Bonhams Motorcycles, said: "This is an extraordinary collection assembled by a fastidious collector who was dedicated to the preservation of Speedway heritage. Aside from the exceptional Crocker and Indian, there are some very enticing and rare machines throughout, the likes of which haven't been seen at a public auction for at least a generation."
Other notable lots from the Forshaw Collection include: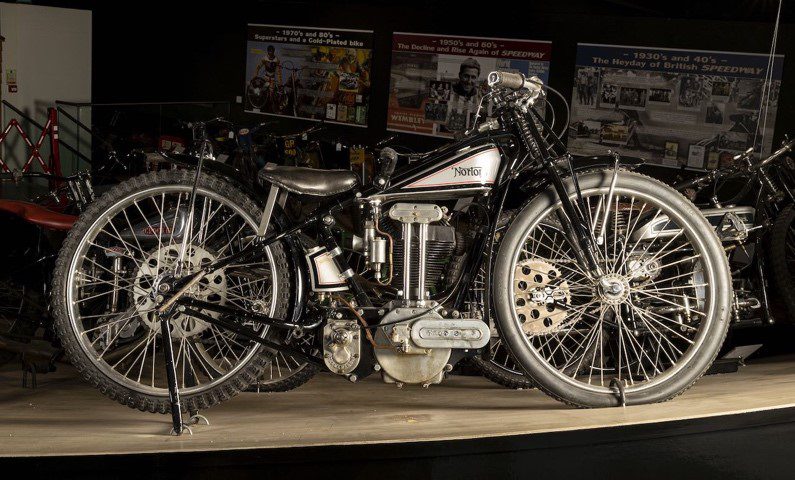 c.1930 Norton Speedway 490cc OHV, estimate £14,000 – 18,000
c.1930 Norton Speedway 490cc OHV Speedway, estimate £14,000 – 18,000
Norton's attempt to cash in on speedway racing. Its engine, based on their 70 x 100mm model 18 unit, had a two-port cylinder head but, unlike that of the Rudge, had only two valves. It was a heavy machine and easily outclassed by the Rudge and Jap engine bikes, so few were sold, and it remains a rarity.
c.1933 Martin-J.A.P. Special Speedway, estimate £12,000 – 16,000
Presented in fantastic 'as found' condition, this machine appears to largely conform to the catalogue specification and is still fitted with original 28 x 2.375 Avon Dirt Track tyres. In a letter from Richard dated 1998 it states he found it in a cupboard under some stairs where it had been stored since 1935.
c.1930 Wallis-Blackburne 500cc Speedway, £10,000 – 15,000
Although successful in road racing, very few Blackburne engines were used on the dirt. The frame is an early example of one of many made by George Wallis, who was involved with the early days of Speedway and knew exactly what was needed for dirt track racing.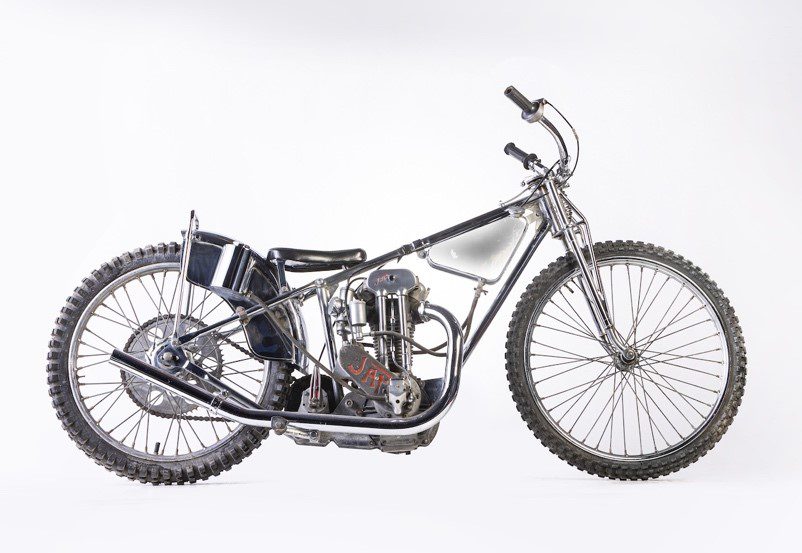 c.1948 Langton-JAP 497cc OHV, estimate £5,000 – 7,000
c.1948 Langton-JAP 497cc OHV, estimate £5,000 – 7,000
Champion grass track rider and one of speedway's brightest stars, Eric Langton won the British Individual Speedway Championship in 1932 and rode for England 35 speedway times in the 1930s. As brilliant an engineer as he was a rider, he designed and built his own frames and extensively modified his JAP engines internally to achieve maximum power, while retaining reliability. This is a fine example of one of his machines.
c.1965 Hagon-Cole 497cc JAP, estimate £4,000 – 6,000
Alf Hagon, a former West Ham speedway rider and sprint racing exponent, had his own motorcycle business in Essex, making speedway frames, front forks and rolling chassis to accommodate JAP or Jawa speedway engines. Complete road-to-race motorcycles were usually fitted with a Jawa engine, this machine being an exception.
c.1977 Jawa-ERM 493cc DOHC, estimate £3,000 – 5,000
The Swedish-made ERM engine (Endfors Racing Motors) was designed and developed by Eje Endfors and Johnny Lindberger to replace the top half of a two-valve Jawa engine, using a standard Jawa bottom end. Using Cosworth Formula 1 parts, there were high expectations of it as it was fitted with a rev. counter and was extensively tested by top riders Ivan Mauger and Anders Michenek.
c.1979 Rotrax-JAP 499cc DOHC Mark 2, estimate £3,500 – 4,500
This is the Rotrax Mark 2 model fitted with the last of the JAP engines to bear the company's logo, a double overhead camshaft four valve design. However, By the time this new Rotrax model appeared, it was too late: JAP was no longer in existence and the Jawa engine had already established its supremacy.
Now the collection is being offered by Richard's children. The Forshaw family said: "It has been an honour being custodians of our father's collection. It represents a lifetime of enthusiasm and hard work searching for such rarities, and we hope they will find new and appreciative homes where they will be cherished in the same way that he cherished them."
The Forshaw Collection is currently exhibited at Haynes Motor Museum where it has been on display since Richard's death in 1997, with the exhibition opened by six-times Speedway world champion Ivan Mauger.
Chris Copson, Collection Director at Haynes Motor Museum, commented: "We have been privileged to display this wonderful collection for the past 25 years. This summer will be the last opportunity for enthusiasts to see the complete collection together before it is auctioned at Bonhams in October and we hope that visitors to the museum will get to do so."
Bonhams returns to Stafford for its traditional Autumn sale at The Classic Motorcycle Mechanics show on 15 and 16 October.
Further entries to the Autumn Stafford Sale are invited now. Contact the Bonhams Motorcycles team at: [email protected] – +44 (0) 20 8963 2817 or visit www.bonhams.com/motorcycles to request a complimentary auction valuation.
Sale: The Autumn Stafford Sale: The Classic Motorcycle Mechanics Show
Location: The Staffordshire County Showground, Stafford
Date: 15-16 October, 2022