PHIL MORRIS COLLECTION AT AUTUMN STAFFORD SALE
https://www.bonhams.com/auctions/26978/ 
A collection of rare racing motorcycles, campaigned at the highest levels of motorcycle racing from the TT to Moto GP and amassed by a leading figure of the paddock, is to be offered at Bonhams Autumn Stafford Sale on Sunday October 10. 
The Phil Morris Road Racing Collection of 24 machines are offered direct from the collection in Oswestry: a treasure trove – and one of the world's largest collections – of motorcycles, leathers and trophies raced, worn and won by some of the most famous names on two wheels and dubbed 'The Church' by TT rider Rob Barber.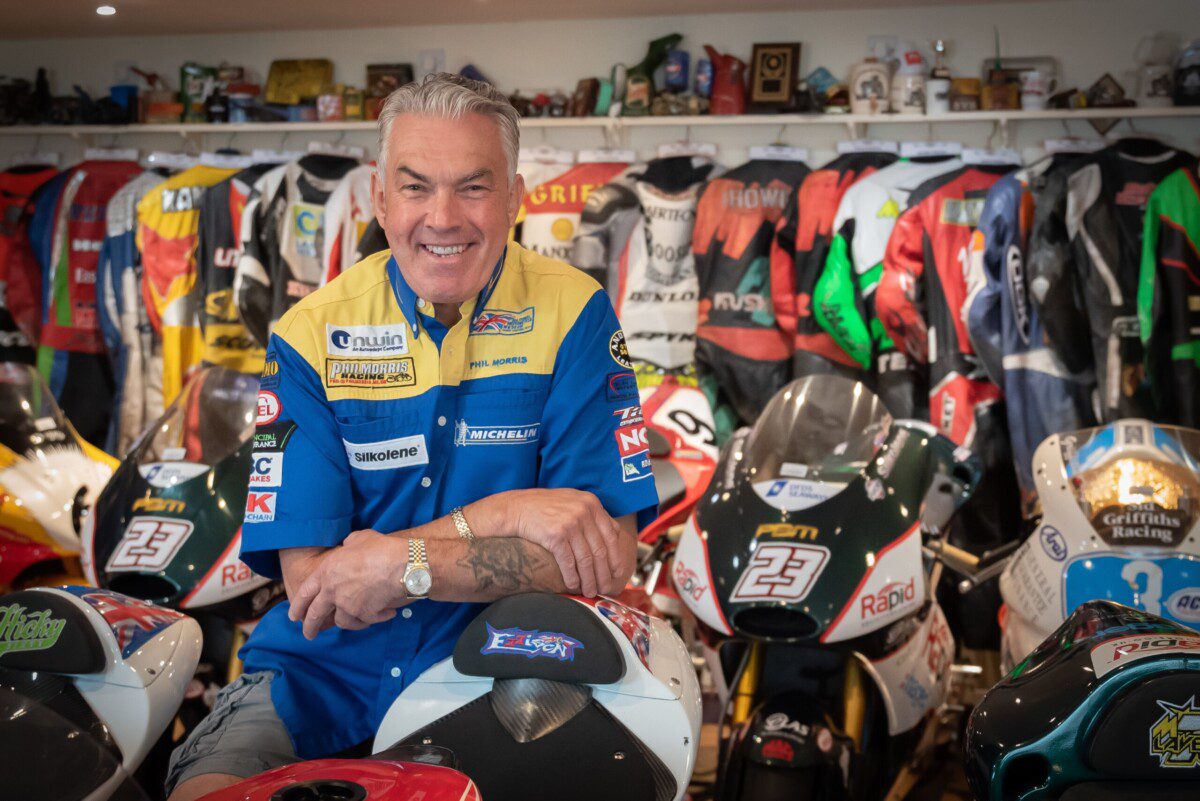 This landmark collection is led by no fewer than five MotoGP motorcycles, the entire fleet from the Paul Bird Motorsport team, which campaigned in the top-flight series from 2012 to 2014. All Aprilia machines, three are to full Moto GP specification and include the number 1 and number 2 motorcycles from the 2014 season which, according to Phil Morris, "would have cost €850,000 per bike when new."
The remainder of the extraordinary collection, including rare sets of spares – wheels, fairings – as well as matching helmets and leathers for the GP bikes, Moto 2 and Moto 3 motorcycles featuring in the Autumn Stafford Sale, is to be offered in a dedicated online auction later in the year. 
Phil, a schoolboy trials racer who graduated to four-wheels competing in the RAC Rally, is well-known in racing circles as a sponsor and team owner. He started collecting motorcycle memorabilia in the 1970s and in 2001 added machines to the mix when he bought back his first Ariel.
"The original collection was road bikes, then it changed up to speedway, concours road bikes, and then thoroughbred racing bikes," he explained.
Phil set up a dedicated space for the collection in 2007 when it had outgrown his home and his then wife's patience. Forty to sixty people would visit every Thursday until the doors closed with the first lockdown last year.  
In 2014, the collection moved up a gear to encompass motorcycles from Moto GP, the pinnacle of motorcycle racing. Ian Hutchinson, who finished third in the 2015 Isle of Man TT for Paul Bird Motorsport, had promised to donate his race helmets and leathers to Phil's collection. 
He visited the collection which, Phil said, "blew his mind."
"He sent me a photo of a Paul Bird Motor GP frame on a bench and said that this should be in the collection."
Phil consequently acquired the motorcycle in question, plus four others which had all competed in Moto GP, the top-flight motorcycle series, direct from Paul Bird Motorsport.
The motorcycles were run by the eponymous team of British businessman Paul Bird during Moto GP's so-called Claiming Rule Teams (CRT) era between 2012 and 2014. This short-lived lower-cost category, allowed privateers to race alongside factory teams, running production-based engines in prototype chassis. 
Since coming into Phil's collection, the motorcycles have been ridden on display laps at circuits such as Mallory Park by the likes of John McGuiness and Steve Plater.
The Moto GP machines offered are:  
Ex-Broc Parkes, Paul Bird Motorsport, 2014 PBM-ART 1,000cc Grand Prix Racing Motorcycle, estimate £40,000 – 60,000. 2014 rider Broc Parks' number two bike. Powered by a factory-built Aprilia RSV4 engine, with a Moto GP output of 230bhp, it is accompanied by its Magneti Marelli electronics, including the ECU which was re-programmed with data from the end of the 2014 season. The motorcycle also features original FGR fork yokes, Öhlins forks, Brembo brakes and PBM's own exhaust and carbon-fibre bodywork. It is offered in running condition. 
Ex-Michael Laverty, Paul Bird Motorsport, 2014 PBM-ART 1,000cc Grand Prix Racing Motorcycle, estimate £40,000 – 60,000. One of two bikes for Parkes' teammate Michael Laverty, who scored nine points that season. It is also to Moto GP-specification accompanied by its original ECU with 2014 season data and retaining its race carbon brake discs, Öhlins forks etc. Like its stablemate, it is offered in running condition.
Ex-James Ellison, Yonny Hernandez, Paul Bird Motorsport, 2012 Aprilia Art 1, 1,000cc Grand Prix Racing Motorcycle, estimate £40,000 – 60,000. First campaigned by PBM's sole rider James Ellison in 2012, in the team's Moto GP debut, the motorcycle was then assigned to Columbian Yonny Hernandez the year after.
Since coming into the Phil Morris Collection it has been fitted with a stock 1,000cc Aprilia RSV4 road bike engine and associated ECU and electronics for practicality. However, it is accompanied by its original factory engine, ECU, parts and bodywork, enabling the machine to be returned to Moto GP specification.
Ex-James Ellison, Yonny Hernandez, Michael Laverty, Paul Bird Motorsport, 2012 Aprilia Art 1,000cc Grand Prix Racing Motorcycle, estimate £30,000 – 50,000. Like its pair, this motorcycle was ridden by James Ellison for one season before his return to British Superbikes. New signing Hernandez inherited this ex-Ellison motorcycle in 2013 and it was also used by teammate Michael Laverty that year. Its condition and specification are both as it was 'last raced' in 2012. 
Ex-Broc Parkes, Paul Bird Motorsport, 2014 PBM-ART 1,000cc Grand Prix Racing Motorcycle, estimate £30,000 – 50,000. Parkes' number one bike from the 2014 season, featuring the Bird's British GPMS-built chassis. It is also accompanied by its Moto GP-specification Magneti Marelli electronics and components but is offered incomplete. 
Phil said: "This is such a unique opportunity for an individual to buy one or even all five Moto GP machines. You cannot buy a privateer Moto GP bike dating from 2015 onwards."
In 2015, FIM, the governing body for the Moto GP championship, decreed that privateer teams would lease their machines from the motorcycle manufacturers – the frame, swinging arm and engine – and would return them at the end of the season.
Phil said that although the Moto GP machines are the highlights of the collection, his personal favourite is the 2018 Yamaha EC03. electric scooter (estimate £1,000 – 1,500).
"Six years ago, petrol scooters were banned from the GP paddock, and I was given this for paddock use by Yamaha. I had it for bombing around. It was sponsored by the Liquid Paint Factory, who took all the plastics off and dipped them. It's fantastic. Everyone who sees it loves it."
Describing his collection as "well-maintained racing bikes that each person can afford," Phil said: "They have sentimental value and it's the end of an era, but you can't keep everything. When the bikes went up the drive, I was relieved. It had got out of hand, I just bought and bought."
The Autumn Stafford Sale will be a two-day live auction at its traditional venue, the Staffordshire County Showground, in conjunction with The Classic Motorcycle Mechanics Show. It will offer more than 300 motorcycles and 140 lots of motorcycles spares and memorabilia on Saturday 9 and Sunday 10 October.
The sale will also be streamed and available on the Bonhams App, providing registered bidders the opportunity to bid in real time online via the app and Bonhams.com. Absentee and telephone bids are also encouraged.
Viewing will take place on Saturday 9 and Sunday 10 October from 9am.
To register to bid, contact: [email protected]. To discuss selling or buying collectors' motorcycles at auction, contact: [email protected].