On Sunday 14 October at its Autumn Stafford Sale, Bonhams will offer several of the world's most iconic superbikes of the modern age including a 1993 Honda NR750 with less than 1,500km from new and a 2017 Kawasaki H2R Ninja Racing Motorcycle amongst various others.
The Willowbrook Collection, comprised of more than 80 important machines, is joining the already impressive 400 lot line-up of the two-day Autumn Stafford Sale. Many machines – including the majority of the Willowbrook Collection – are to be offered without reserve.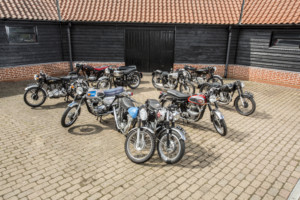 When the NR750 was released, Honda proclaimed: 'There is no limit to the places a dream can carry you. All it takes is the determination to get there.' This is demonstrated by the owner's incredible resolve to source and curate this diverse collection of machines spanning more than 90 years of motorcycle production.
The last word in motorcycling exotica in its day, the 1993 Honda NR750 (£60,000 – 80,000) cost five times as much as the newly introduced FireBlade when it was introduced. Equally rousing is the c.2017 Kawasaki H2R Ninja Racing Motorcycle (£25,000 – 35,000) the world's fastest production motorcycle, a supercharged 310bhp monster, capable of propelling its rider close to 400 kmph.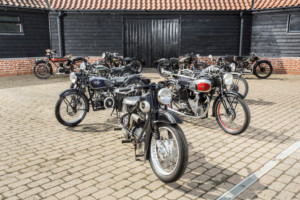 Other highlights of the collection include:
1928 AJS 500cc K8 OHV (£7,000 – 9,000)
1938 Excelsior 500cc Manxman (£16,000 – 22,000)
1962 BSA 646CC Rocket Gold Star with matching numbers and documented from new (£17,000 – 22,000)
1977 Triumph 744cc T140 Silver Jubilee that has covered just 11 miles from new (£7,000 – 10,000)
c.1988 Yamaha RD350 F2 that has covered less than a mile from new (£9,000 – 12,000)
LOT PREVIEW
www.bonhams.com/autumnstafford
FURTHER ENTRIES INVITED
Further entries are invited, and it couldn't be easier to consign. Simply email [email protected] or submit a Complimentary Auction Appraisal Request at www.bonhams.com/motorcycles